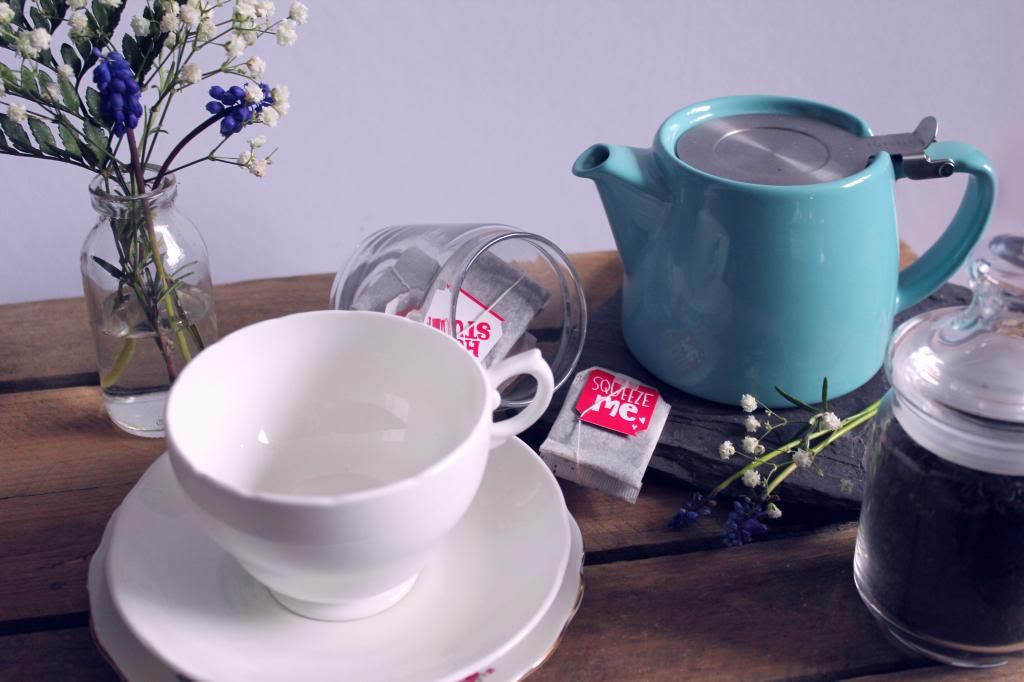 I feel as if things have been hectic lately, but I think it's just my head full of thoughts as usual. I spend more time thinking than anything else. More time thinking than actually doing things sometimes...
I find it really important to find a few minutes to just sit down, relax and enjoy a nice cup of tea. However, I find tea very important, not only its taste, but its presentation. For the past few years, I've been collecting vintage teacups, and obsessing over teapots. If I had my own house, the place would be full of them! Maybe it's a good thing I don't....It would take a long time to choose which teacup I'd want to use.
One of my favourite teapots at the moment is the little turquoise beauty above! Although some may think they're expensive at around £25, I highly recommend them if you're a fan of loose leaf tea, or in fact tea in general - they're one of my favourite teapots! I had a lunch date with the lovely Jane last week, and they served these little teapots over a teapot warmer (basically a jar which held a tea light, with a metal grid on top!) I found them online
here
and I'm really tempted to get one...
I'm not a huge fan of herbal tea, but I bought a pot of Lov Tea in Paris after I found them online (with ridiculous postage costs!) - And this is definitely the best herbal tea I've tasted! The loose leaf version can be bought in the gorgeous tins, or you can buy ones in teabags if you're on the go or to use at work.
I don't tend to watch TV a lot, unless I know there's something I must watch. However, I recently came across Victoria Wood's Nice Cup Of Tea and absolutely loved it! If you're a tea lover I highly recommend it (and there's an appearance by Matt Smith - a huge bonus) I love how tea is regarded almost as a ceremonial act in China, and the consumption of good tea reflected their status.
These days, tea or 'afternoon tea' is regarded as being very British - and it's something I happen to love!
Anyway, that's enough about tea for the time being.
I hope you've all had a very lovely week - and have nice things planned for the long weekend ahead.
I'm off to enjoy a nice cup of tea....
x