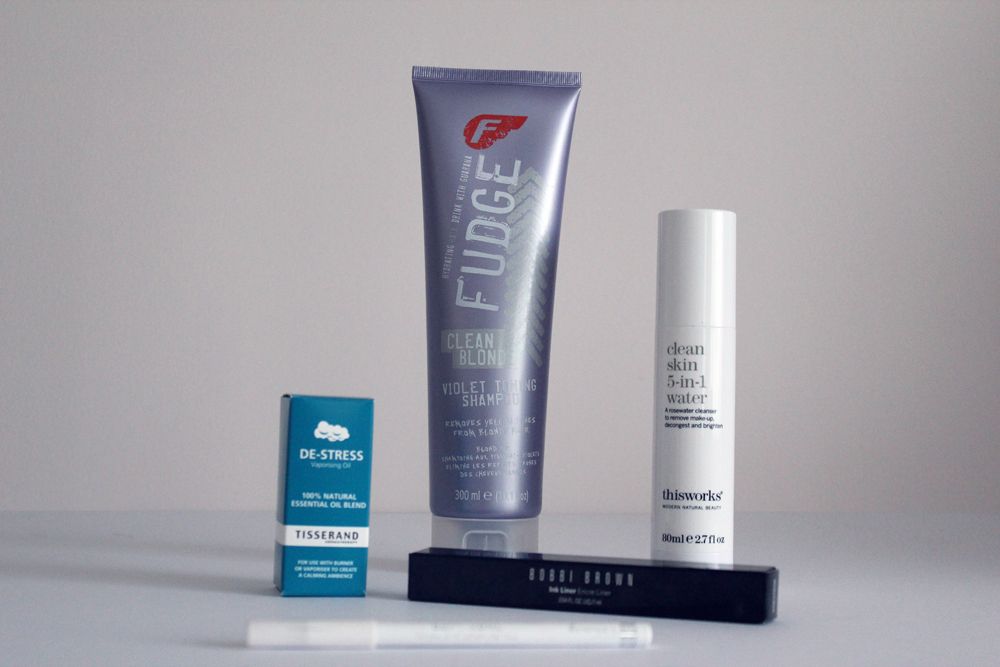 01
Fudge Violet Toning Shampoo
Having heard wonderful things about this shampoo, I decided to give it a go! I had recently dyed my hair at the hairdressers and received a bit of a lilac tint. This shampoo is perfect for topping it up! I try to keep this in my hair for at least 10 minutes in order to see proper results. To follow, I usually mix a little bit of fudge paintbox colour with my conditioner and leave it in for 5-10 minutes.
I highly recommend this product if you wish to have a bit of a lilac tint to your hair.
02
Tisserand De-Stress
I've recently blogged about this product, but it has to be said, it's one of the loveliest oils I've used. I'm a huge fan of using my oil burners, and this really helps create a relaxing environment after work or later on at night.
I'm hoping to purchase some more Tisserand products soon as they're so lovely. It really pays to invest in good quality oils!
03
This Works 5 in 1 Water
I purchased a smaller version as I was unsure whether I'd like this product or not, but I really really love it. It removes my make up well, and leaves my skin feeling fresh. Since I started using it, I've noticed I don't suffer from blemishes or spots as often as I used to. It really helps to decongest the skin.
It seems a little expensive for a cleanser/make up remover/decongestant, but it's worth it, even if you use it a couple of times a week.
I already need to re-purchase!
04
Bobbi Brown Eyeliner
I've been looking for a good felt-tip eyeliner for quite some time now. They always seem to dry out after a while. This one by Bobbi Brown is a bold black, long lasting eyeliner. It doesn't smudge or appear too watery. It takes some time to get used to applying it, but it's definitely worth the price tag for its quality and colour.
05
Rimmel London White Khol Pencil
I've recently been using this white pencil on my water line as it makes my eyes seem a lot bigger!
It's such a great tip!
Do you have any favourite products this month?
x